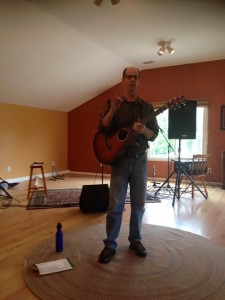 The Carrboro Music festival is one of my favorite music events as an artist and a patron. They block off the streets and the musicians take over. 25 venues with hundreds of acts, all within walking distance. Rain will cancel the outdoor venues but nothing dampens the wonderful spirit of this event. For the past 2 years I have been assigned the Balanced Movement yoga studio as my venue. It's indoors and it is perfect for a solo artist looking to connect with the audience.
Here are Three Good Take Home Lessons  from the gig:
Control what you can: I specifically requested the venue when I applied and I was fortunate to get it. I knew it was well suited to my performance style and when the outdoor stages got rained out it boosted the attendance. I always visit a space prior to a show if possible. If that's not possible, I try to talk to people who have played there to find out what to expect. I also bring a spare everything: mics, cables, batteries, I have a checklist I use every time I load up for a gig. I have a favorite mic that uses phantom power. On two festival shows this summer no phantom power was available.  "Hey no worries" I said to the sound person and pulled out the non-phantom-power backup.
Don't worry about what you can not control: As I completed my sound check the P.A. died. I unplugged my guitar and stepped into the center of the room and started my set. This put me closer to the audience and created an instant connection. Fortunately, the acoustics were perfect for voice and guitar. The room continued to fill and the energy grew as the set went on.  It turned out to be one of my best shows ever.
Rise Above: There will always be something going on in your life or your environment that will put you off your game. As I was leaving home for the gig I discovered the pressure tank in my well house was leaking water. This delayed me and got me a bit flustered. However, when It came time to play I managed to pull it together and be present in the moment.
Thanks to Deb Cuz for the gig photo
Next weeks post -The Story Behind A Better Look At Life