I recently saw folk singer David Roth perform at the Eno River Unitarian Universalist Fellowship in Durham, NC. The show was part of the Standing On The Side Of Love Concert Series. I have know David for many years from the Swanannoa Gathering where he is Coordinator of Contemporary Folk Week program. I was looking forward to seeing him stretch out in a full concert experience.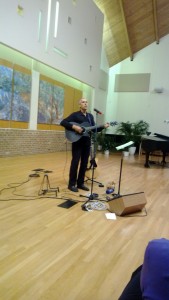 3 Good Things about David Roth live.
Mindfully optimistic. Dave takes the good in this world sets it to music in a way that is thought provoking, humorous and humble.
Master Storyteller. Dave's songs have  great stories behind them . Even before he plays the first note he draws you in and makes you a part of it. As the song begins so does the journey. He drops you off a slightly better person.
Full Range of Human Experience:  Laughter, tears and everything in between. Dave uses his voice, guitar, ukulele, ocarina, piano and ukulele to create a variety of musical moods and textures. It's a challenge to keep an audience engaged for 2 hours but Dave makes it look easy as he moves from story to song to sing-along.
You can find out more about David Roth at his website HERE
You can find out about ERUUF HERE