A friend brought Wes Collins over to my home for a Sunday song circle back in 2008. As we sat around the table getting acquainted, Wes mentioned he had only written 4 songs.  The more seasoned writers gave each other a wink and I said " Let's hear one". Wes played his song Diana and when he was done you could have heard a pin drop. Stunned by the beauty and eloquence of the song, I asked him to play it again to make sure I didn't miss anything.
Over the years Wes has patiently honed his art, craft and humble stage presence to become a rising star in contemporary folk world.  Wes won the prestigious 2015 Kerrville New Folk Songwriting Contest and has been playing shows from Nashville to Texas. Regardless of  how you feel about songwriting contests Wes is in touch with something deeper and his songs reflect it.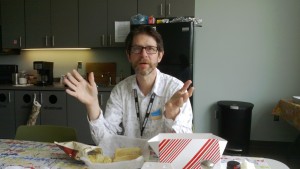 3 Good Things about Wes Collins
His Poetic Twist. Wes writes about the uncomfortable and sometime painful truths in our lives in an accessible and colorful way. With just the right balance of the poetic and literal he puts you right in the room with the truth.  Take a look at the first section of my favorite W.C. tune The Quiet Part. Two lines in, I'm hooked. By the end of this section  I have this feeling in my gut like I've been here before. I can see myself having this conversation in a under-furnished apartment on a bleak October day.
You don't have to guess why I'm made out of chalk
It was the shake in your voice when you told me we got to talk
I haven't been around to meet your eyes for a while
So I hold on to the edge of the chair and I stick on a smile
Don't want to hear what you're trying to get over to me
I can tell this morning gonna break us over its knee
And it runs under your breath in a delicate hum
It's a little bit sad and a little bit numb
And I know you're ready to go now we come to the quiet part
©2015 Wes Collins/Whoompleytunes ASCAP  used with permission
2. His musical twist.  The sparse finger-picked guitar part frames the scene and adds tension in all the right places. A high wire balancing act between dissonance and harmony brings the scene to life.
Give it a listen:
3. What you see is what you get. Some performing songwriters (me included) have a stage persona that's larger than life or is different from their day to day selves.  Wes is humble and approachable, he's not looking to blow anybody's hair back on stage. His music shines a light on the human condition that let's us know that even in our darkest hour we are not alone. It's hard to walk away from one of his songs not feeling that some how the song is about you.
Check out some Video of Wes here