I was selected as a finalist in the South Florida Folk Fest Singer/Songwriter contest.  I left 23 degree winter in NC and made the long drive South to balmy Ft. Lauderdale. It was a great weekend and a grand adventure in so many ways.
3 Good Things about SFFF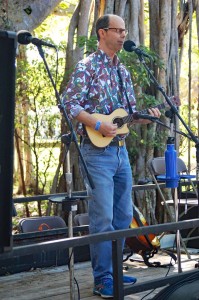 A sense of place. Florida has a great sense of place. It has a wild, complicated history that has spawned many fantastic stories and many great troubadours to tell them. The festival was located at Hugh Taylor Birch State Park which is smack dab in the urban, Art Deco, wonderland that is Ft. Laudedale. It's an oasis of sandy maritime forest amid the bustle.  An ancient banyan tree served as a back drop for the stage I performed on.
Community. Torrential rains the day before the festival complicated things a bit but the Florida Folk Community will always rise to the occasion. Standing water in the traditional main stage area required the portable stage to be relocated. This required a tow truck! It was great to see everybody pull together to rise above the unseasonably cool and wet weather. The audience seemed to relish hunkering down  and snuggling under blankets as if to say, "Our music will not be denied!".
Larger Lessons: Sitting with my morning tea looking out at the snow covered woods behind my house, the whole thing seems like a wonderful dream. I did not win the contest but that seems like a minor detail compared to all the new friends made, community built and new artists discovered.
South Florida Folk Festival Website is HERE